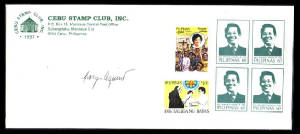 The Cebu Stamp Club cover with the authentic signature of President Cory Aquino for Richard Allan Uy
FAREWELL CORY AQUINO
Among my favorite president is Corazon Cojuangco Aquino. Popularly called Cory, she was a symbol of democracy here in the Philippines. Her bout with colon cancer eventually led to her demise today, August 1, 2009. She is one person that the world will surely miss..
I will never forget the day I approached her in one of her campaign visits here in Cebu sometime in April 1998 while she was campaigning for Alfredo Lim who was running for President. I was very privileged to have her sign a Cebu Stamp Club cover which bears her different stamps. I will always treasure that uncancelled cover with her signature.
Farewell Madame President! Our prayers will always be with you... (by Richard Allan Uy)
Click here to view the newest Cory Aquino stamps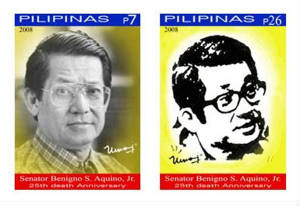 NINOY STAMPS
The Philippine Postal Corporation (Philpost) issued on November 27, 2008 two stamps commemorating 25 years of the martyrdom of Senator Benigno "Ninoy" Aquino.
The stamps valued at P26.00 and P7.00 is part of the iamninoy campaign to promote Ninoy's legacy and enforce in the youth his beliefs and values towards a country all Filipinos truly deserve. It also aims to encourage a sense of heroism among ordinary people from all walks of life.
Postmaster General Hector Villanueva believes that the stamps will serve as a reminder for future generations of the ideals Ninoy fought for. "His sacrifices to restore out rights and freedom through non-violence will forever live in the hearts and minds of our countrymen.." (by R. A. Uy for CSCI)
Manny Pacquiao Stamps
The Philippine Postal Corporation (Philpost) has released on May 30, 2008 the much awaited Manny Pacquiao stamps as a tribute for his exemplary achievement in the boxing ring which has brought pride, honor and glory for the country.
Manny Pacquiao personally chose the design of the stamps which are part of the "Kaya Ng Pinoy" series, before his departure to Los Angeles last May 12, 2008. The "Kaya Ng Pinoy" series features outstanding Filipino athletes.
The stamps are valued at P7.00 in four different designs. A special issue for collectors is also available. Grab your copies now at the Philippine Postal Corporation (Philpost) philatelic section counters. (article by Richard Allan Uy, CSCI Newsletter June 2008 Issue).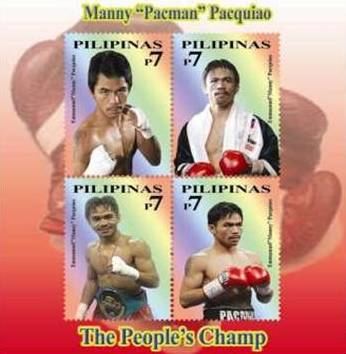 Click here to see the stamps and the exclusive stamp album pages
Cebu Stamp Club, Incorporated launched in 2008 two new websites.
The first is CSCI's alternate webpage at http://cebustampclub.110mb.com. The second one is "The Philippine Presidency on Stamps" featuring the stamps of all the Philippine Presidents. Feel free to drop by in these sites!
Our most heartfelt thanks to the following for donating stamps to the club which are distributed during our monthly meetups or included in our auctions:
Richard Allan Uy (Philippine stamps)
David Mario Blair Taylor (England stamps)
Edmund Gruenbaum (Germany stamps)
Riccardo de Silva (Singapore stamps)
Luke Ferrara (Australia stamps)
Emie Patalagsa (Netherlands stamps)
Kenneth Turner (Assorted stamps)
Elbert Montuno (imported stamp mounts)
Eyan Yu (Assorted stamps)
CSCI STAMPS EXCHANGE CIRCUIT
We would be glad to swap these stamps. These are the rules for the exchange:
RULE 1:
You should be a member in good standing of Cebu Stamp Club, Incorporated (CSCI)

Let us know what stamps you want in the Stamps for Exchange album found in our FB page then post your stamps for exchange in our wall so we will know what stamps you have.

We usually have two copies of the stamps that are posted. First come, first served rule applies.

Mint stamps must be exchanged with mint too on a one on one basis.

Used stamps in sets must be exchanged with used stamps in sets too or a set of mint stamps.

Used stamps posted are "on paper" so you must soak the stamps to get the paper off then let it dry.

All stamps posted are in good quality for both mint and used so we expect to receive th same.

Stamps for exchange should be in perfect condition, never crumpled and creased, no coloring and the teeth (perforation) must be intact.

Damaged, folded or stamps with a tear must not be sent.

The cancellation on the stamps (for used stamps) must not be heavy.

Defective stamps are automatically returned and must be replaced by a perfect one to ensure a quality exchange.

Please do not send duplicates.

Fold a cardboard and place the stamps inside so they will be protected before placing them inside the envelope.

Send your stamps through the Philippine Postal Corporation (Philpost) registered mail only (for Philippine members) but make sure to use stamps. Never allow the post office to use metered stamps. Always ask the teller that you want a stamp on the mail.

We will not accept stamps sent without the stamps on the envelope.

Inform us when the stamp was mailed.

Once we got your stamps, we will send the items at once through Philpost registered mail also with stamps on the envelope.

Send your stamps to our postal address:
Richard Allan Uy
/
Cebu Stamp Club, Inc. /
AE-54 Velasquez St., Subangdaku /
6014 Mandaue City, Cebu /
Philippines
(note: The above stamp circuit info is copyrighted and permission is required if you wish to copy it for any reasons.)



Cebu Stamp Club, Incorporated (CSCI) regular monthly stamp meetup every third Sunday of the month at the 2nd floor of McDonalds Jones, Jones Avenue, Cebu City, Philippines. .
Email us at cebustampclub_inc@yahoo.com for confirmation of future attendance in our monthly meetups.
The CSCI Newsletter
(click image below to learn more of the CSCI Newsletter Jan - Mar 2013 issue)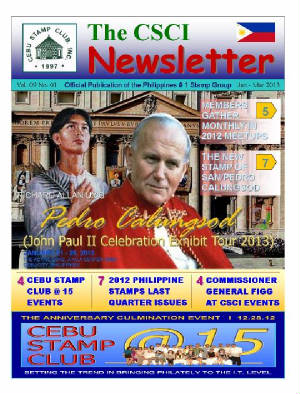 August 23 - 26, 2008
"Selyo At Kasaysayan.. A Retrospective of Filipino Heroes Through Stamps"
Library Lobby, Silliman University, Dumaguete City
August 28 - 31, 2008
"Selyo At Kasaysayan.. A Retrospective of Filipino Heroes Through Stamps"
Lower Ground Floor, SM City Cebu, Cebu City

An exhibit featuring the stamps on Philippine history, arts and culture, heroes and presidents.

This is a project of the Cebu Stamp Club, Incorporated in cooperation with the Cebu City Cultural and Historical Affairs Commission (CHAC), Philippine Postal Corporation (Philpost) Region 7, Cebu Star Wars Club, Silliman University and SM City Cebu.
Major sponsors include the City Government of Dumaguete and Powell Perales.

Jollibee, Rhine Personal Computers, Sun Signs and Graphics, Congressman Edcel Lagman of Albay, Governor Jurdin Jesus Romualdo, Juan Eugenio Roxas and The Negros Chronicle made the event successful together with Manuel Mendoza, Monserrat Magbanua, Gary Rosales, Roy Cang, Dumaguete Grandeur Travel and Tours, and www.Bangag.com
The Postmaster General of the Philippine Postal Corporation, Hector RR. Villanueva graced the Dumaguete City exhibit opening while Cebu City Vice Mayor attended the SM City Cebu event.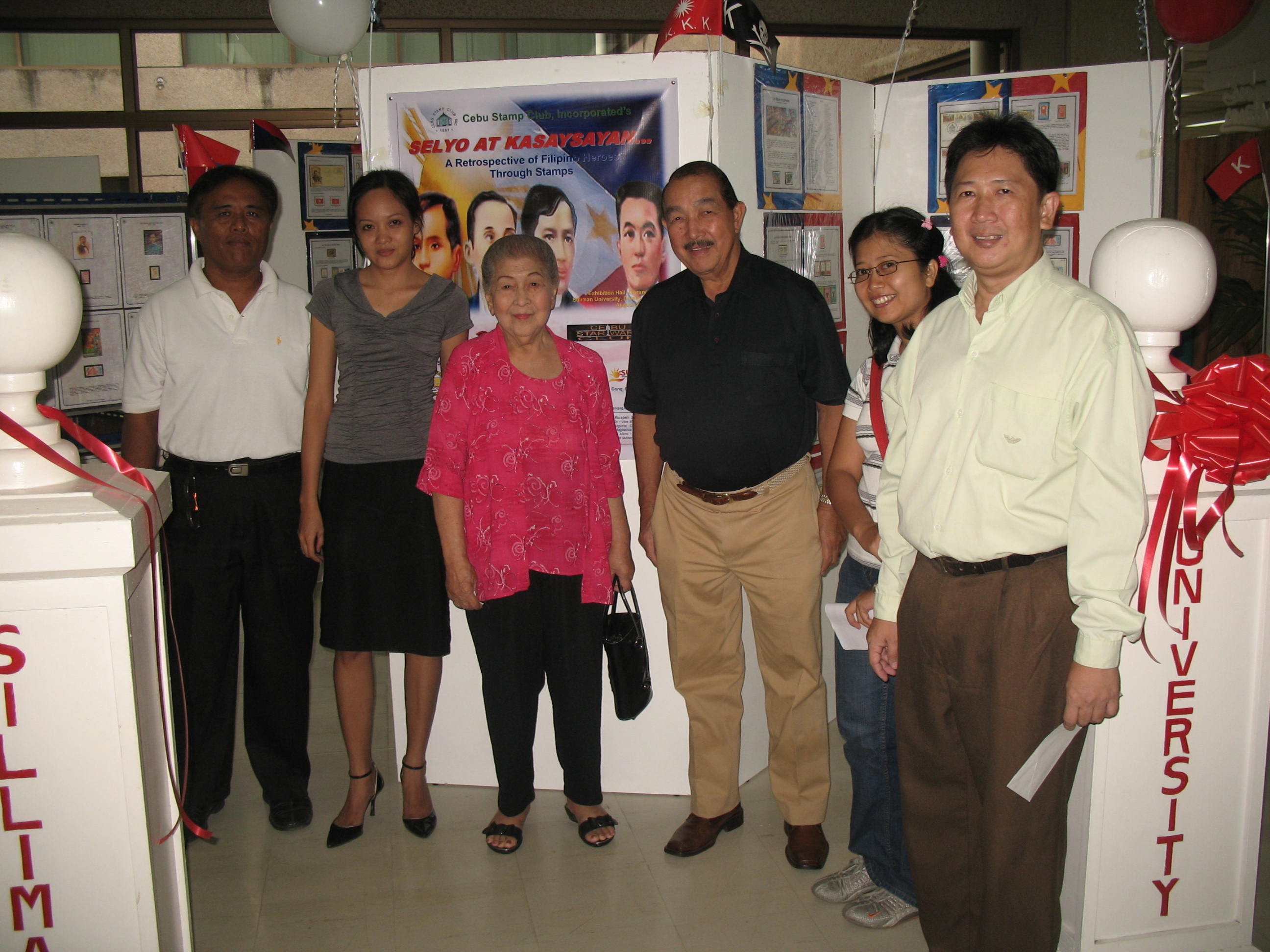 L to R: Benito Quiros, Aidalyn Arabe, Monserrat Magbanue, Postmaster General Hector RR. Villanueva, Sharee Ann Trapa and Richard Allan Uy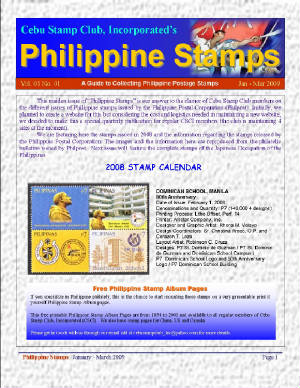 Cebu Stamp Club, Incorporated (CSCI) launched in January 2009 the "Philippine Stamps", its newest semi-annual e-magazine. The 17-page maiden issue showcases the complete stamps of 2008 issued by the Phlippine Postal Corporation (Philpost) and exclusively sent online to Cebu Stamp Club members. The 13-page April-June issue features the complete stamps and info of the Japanese Occupation of the Philippines while the 21-page July-September e-magazine comes up with the stamps released in 2007 by Philpost..
Messages from members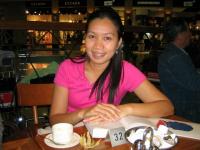 From Niecyl:

Hi guys and gals of Cebu Stamp Club!

I was a member of this one of a kind organization here in Cebu when I was still in College (that was not too long ago) and I enjoyed and learn a lot about techniques and art in stamp collecting. I got started in this hobby when a friend left for another country and he left me all his stamp collection. From then, I want to continue his passion and I started adding and adding his collection.

I am very pleased that you continue working on the organization because I truly believe in its vision. Pls. update me of what's going on and I'll try to be active when I have a spare time.

From Rizza:

kumusta ang club? Dinhi South Africa, dili kayo sikat ang atong nasod, maala-an man ko Chinese dinhi hehehe… hopefully the FILSAFS (Filipino-South African Friendship Society) will make the right move to promote the Philippines…

From Archer:

Cebu Stamp Club is a well organized club in Cebu, it's one of a rare kind so to say. CSCI is not just all about stamps but here you will learn friendship and leadership. We believe through the world of stamps we express our nation, club and our personality. Mabuhay Cebu Stamp Club, to our chairman Richard Allan Uy and to all the members.
From Edison:
hahaha i didnt realised that i wore the same shirt twice in our meetings... LOL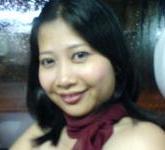 From Sharee Ann:
am glad to be a part of this club... i never knew that men also collect stamps.. what amazes me is the way stamps made a difference... the newsletters are awesome and informative! go for excellence!

From Aidalyn:
hello! i have just joined the club and i've learned that it isn't just about collecting everything [stamps].. there's more to it that's making it more fun and an amazing hobby.. i watch out for every newsletter.. such an informative guide, amazing creativity and brilliantly crafted for beginners like me... "keep up the good work"!
.................................................................................................